My name is Mila Jansen and I was born in Liverpool in 1944.
With my parents we moved around quite a bit, Indonesia, Holland and back to the UK. But since I was 11 I moved to Holland pretty permanently.
Had my first joint late '64 and from that moment it became my drug of choice. In those days there was no weed in Amsterdam, so it was a hash joint and that is what I have smoked now for well over 50 years.
I was twenty-one when I opened the boutique Kink 22, it was a wild time, Amsterdam in the sixties, and November '67 we became a tea-house. It was never the first coffeeshop because we never sold anything, we just shared whatever hash might arrive from Turkey, Lebanon even from Afghanistan. One of our customers just came from the East with wonderful stories. So when the teahouse got some cop problems it did not take long to decide to travel with my young daughter to India. We ended up staying for fourteen years, a wonderful part of my life. In the summers I trekked through the Himalayas with my four children, and in winter we spent time in Goa. I started a knitting company with local women and one of the most popular places to sell these chunky hand-knit sweaters was in California. Glittery beaded and sequined dresses from Delhi I sold mainly in New York.
But finally our time in India was over and we all moved to Amsterdam.
Being a gardener it was not difficult to get a job in the green industry and I started off by making clones and a year later I started my own eighteen lamp garden. It went well and I could pay all the school bills. In the end, with friends we had thirteen gardens in Amsterdam, but these places come and go, even the wonderful greenhouse I worked in '92 did not make it to the end. We lost 24000 plants 10 days before harvest.Time for something different.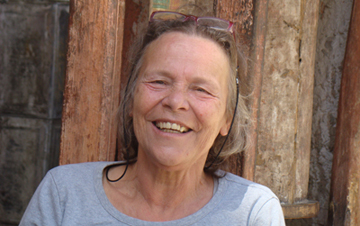 Get your book signed by "THE QUEEN OF HASHISH".